One is not having fun in Bali without tan-lines, sunglasses, and a glass of tropical cocktail. When you have the sun up to 33 Celsius degree, one essential thing that has to be next to your grip is one hell of a cocktail! A sexy tropical thirst quench, shook real good, poured only for you and ARTOTEL Sanur – Bali has it all covered with its top three treasures tropical cocktails when you visit. Whether it's poured on a curvy margarita glass or a classic martini glass, ARTOTEL Sanur – Bali mixes tropical fruits from pineapple to passion fruit and it's all freshly served by the minute when its poured.
And you can only have it at the one and only BART Sanur – Rooftop Bar
1. Passion Fruit Margarita

With tequila alcohol based and passion fruit, this cocktail will not make your head spun afterwards. Combining the freshness of lime juice as part of the ingredients, Passion Fruit Margarita sure will elevate your mood in no time. Best served during sunset on ARTOTEL Sanur – Bali rooftop pool and a selfie later on.
2. Rooftop Breeze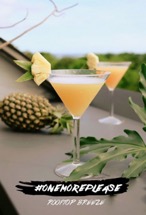 We have that slight bitter taste from Angosture, warm delight from Ginger, and that subtle flavor from Rum mixed and poured into a classic martini glass. Having one glass of Rooftop Breeze straight from BART Sanur's bartender is one of an experience. With an open space concept rooftop bar, you can see the blue and green horizon of Sanur while sipping this BART Sanur's signature.
3. Passion Fruit Mojito
Mojito is one classic cocktails that is known for its freshness, gathering five essentials ingredients such as white rum, sugar, lime juice, soda water, and mint leaves. A new creation from ARTOTEL Sanur – Bali's in-house mixologist, they adding Passion Fruit as the main ingredients. Served with the classic long island glass, Passion Fruit Mojito will add an extra crunchy as those passion fruit edible seeds got eaten.