Art Moments Jakarta will greet art lovers again in 2021. It will be held online and offline from November 22 to December 21 2021 at artmomentsjakarta.com and at three art galleries in the capital city of Jakarta.
Carrying the theme "Yesterday since Tomorrow is Today", Art Moments Jakarta Online 2 (AMJO2) provides a variety of additional interesting events compared to the first event which was held May 20-30 June 2021.
In the second volume, the art exhibition is hosting NFT Art Prized Moments using the eco-friendly Tezos blockchain. This activity is the first national-scale NFT art competition in Indonesia with a cash prize of IDR 30 million.
AMJO2 will also collaborate with the Jakarta Biennale in a fundraising event that will showcase the works of the participants of the UOB Painting of The Year Indonesia 2021 offline and online.
On this occasion, visitors can buy the artwork where the proceeds will be donated to the Jakarta Biennale Foundation which is managed by the Jakarta Arts Council.
The Offline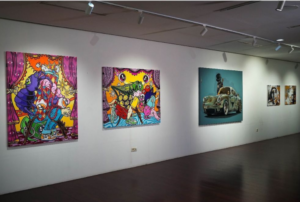 In addition to holding online exhibitions, AMJO2 has also designed various offline events titled Encounter Moments which will be held at three well-known galleries in Jakarta, namely Art:1 New Museum on 19-21 November 2021, CAN'S Gallery 3-5 December 2021, ISA Art & Design Gallery on 10-12 December 2021.
In the event that was held at Art:1 New Museum, AMJO2 collaborated with MISSAO Corporation to create a joint program on the intricacies of art handling services, from storage, care, shipping, to proper packaging of valuable artworks. MISSAO Corporation is an arts and culture business consultant from Tokyo, Japan.
At the event at CAN'S Gallery, Art Moments Jakarta will feature more than 30 works of art from Indonesian artists, namely I Nyoman Masriadi, Bunga Jeruk, Muklay, Arkiv Vilmansa, and also UOB Painting of The Year Indonesia 2021.
Meanwhile, at the event held at the Design Gallery, AMJO2 will display works of art by Alexander Sebastianus and Mira Hoeng as well as art prints by Mira Hoeng and Chang Jui Pin.
Art Moments Jakarta hopes to repeat the success of the online event Art Moments Jakarta Online which was held on June 1-30 2021. In this first volume, the first Art Moments Jakarta Online managed to attract 65 galleries with nearly 50,000 online visitors from various countries. besides Indonesia, such as Singapore, the Philippines, Taiwan, South Korea, Switzerland, Italy, the People's Republic of China, and many more.