Artotel Group has signed a cooperation agreement with PT Planet Properindo Jaya Tbk to manage Vue Palace Hotel – Bandung.
After being officially managed by the ARTOTEL Group, its name has changed to Vue Palace, ARTOTEL Curated, and will have the characteristics of properties within the ARTOTEL Group hotel chain. Furthermore, in 2022, Vue Palace, ARTOTEL Curated will change its name to ARTOTEL Vue Palace – Bandung. The plan is that this hotel will display various works of art curated by the art and creative division of the ARTOTEL Group.
Creativity and art are integrated into every hotel facility: rooms, public spaces, restaurants, and bars, the establishment will become a new destination as a modern meeting and gathering place in Bandung. Vue Palace itself has been operating since 2008. Founder & CEO of ARTOTEL Group Erastus Radjimin said that his party welcomes the new touch on Vue Palace Hotel, becoming a boutique hotel.
Vue Palace Hotel is a four-star hotel located at Jalan Otto Iskandar Dinata, Bandung City. This hotel is suitable for guests who go on business trips or tourists on vacation with family or friends to Bandung. The location is close to the train station, less than 500 meters away, and this hotel is also close to the center of offices, government, and trade centers in Bandung.
Vue Palace Hotel has 102 guest rooms with spacious rooms starting from 28 square meters and has various types of rooms, Deluxe, Junior Suite, and Suite Room. The hotel is also equipped with MICE facilities, a meeting room with a capacity of up to 350 people, and supporting facilities such as a restaurant and bar, swimming pool, fitness center, and spa.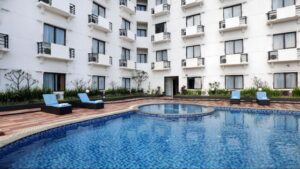 Book your stay with us now on www.artotelgroup.com to be a part of a transformation that will mesmerize you and stay tune on their Instagram Page for further information.