After more than five decades of its existence, the new transformation of Sarinah is now here and has open its doors in March 2022.
Sarinah, which was formerly known as a department store, now has plenty of space that can be used for many necessary activities. Not only as a store, but now it is presented with local restaurants, business areas, and also cultural venues.
Amongst them is Distrik Seni x Sarinah, a new public gallery in Jakarta, a platform for artistic projects that aims to bring cultural practices closer to the art market in order to achieve the objectives of sustainable development.
Distrik Seni is now presenting their second season with "BERKELANJUTAN" in sight until 24 November 2022.
For more info please visit : distrikseni.com.
Moving out to the surrounding area, the next door place you must visit is ARTOTEL Thamrin – Jakarta.
As the leading local boutique hotel, ARTOTEL Thamrin – Jakarta is just a walk away from Sarinah Building that promotes local art and creative hospitality for pleasure travelers with a multi concept creation.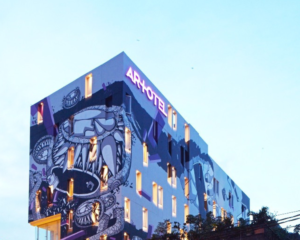 With a mural facade, ARTOTEL Thamrin – Jakarta also collaborated with 7 talented established contemporary artists that represent each floor with different concepts and style. ARTOTEL Thamrin – Jakarta offers 107 rooms with perfect accommodations with its facilities.  At the lobby level Double Chin Restaurant & BAR is a perfect dining pleasure with cosmopolitan ambiance and live music open everyday from 11 AM – 02.00 AM. More info please visit @doublechin_jkt
For those who need break time after hump day, BART (Bar At The Rooftop) offers an air luxury with panoramic views of the leafly residential district of Menteng on the seventh floor.
Sip favorites and enjoy the sunset! More info please visit @bart_jkt 
If you want to try artsy staycation and experience, book your room at ARTOTEL Thamrin – Jakarta on artotelgroup.com