Vacation moments are one way to relieve stress and refresh the mind. Now is the perfect time to enjoy the holidays with loved ones. As one of the most wanted destinations in the world, Bali is a favorite holiday destination in the country. It offers a lot of fantastic inspirations, starting from beautiful beaches, pristine waters, an expansive view of beautiful rice fields, and natural scenery combined with Balinese culture.
For those of you who want to vacation in Bali, there is good news! The government is starting to relax travel regulations and carry out the various reopening of tourist destinations, including Dewata Island.
Artotel Group participates in a beautiful Indonesia campaign called #itstimeforBali. Those of you who want to vacation in Bali and stay at ARTOTEL Group's Bali Properties (Artotel Sanur – Bali & Artotel Haniman Ubud – Bali) will get an exclusive discount of 30%.
ARTOTEL Sanur – Bali offers you a relaxing yet vibrant experience of Bali seaside and only a few minutes away from the beach. Inspired by the famous Sanur's annual Kite Festival, ARTOTEL Sanur – Bali adopts kites as its main concept. This boutique hotel is a canvas that showcases thought-provoking artworks by some of the most relevant Bali-based contemporary artists.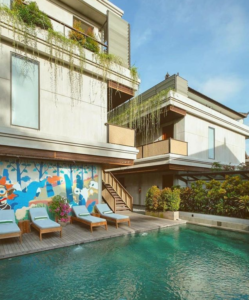 From the heart of Ubud, a modern two stories concrete merge seamlessly with the lush surroundings. Brushed by Bali's notable emerging contemporary artists, ARTOTEL Haniman Ubud – Bali is becoming more alive with its curated artworks and from the lively Flock Restaurant & Bar – Ubud residing just next to the hotel. Breathe some fresh morning air and stroll to Monkey Forest or Traditional Art Market in less than 10 minutes' walk. ARTOTEL Haniman Ubud – Bali is the right place to find your Zen!
Don't lose your chance and book your trip now to benefit from the promotion on www.artotelgroup.com