The moment of the turn of the year will soon arrive, just counting the days. What are you planning to do to welcome the New Year?
Hanging out with friends at the cafe, watching music concerts, BBQ's at home, a fireworks party in the center of the crowd or spending the night in a five-star hotel?
Whichever activity you will choose, we're here to make sure you have a good time!
If we may suggest, it would be better if you choose to celebrate New Year's Eve in a Hotel. In addition to watching the fireworks display, you will also be treated with a number of interesting events.
If you live or are stopping by Jakarta, there will be many hotels from Artotel that you can visit to celebrate the new year
ARTOTEL Thamrin – Jakarta collaborates with 8 talented Indonesian emerging artists that represent each floor with a different concept, style, and design of the art. Every detail in the hotel is designed with precision from the facade of the building into the interior of the room that represents the originality of the overall design with the intention to embrace the experience of ARTOTEL.
ARTOTEL SUITES MANGKULUHUR – JAKARTA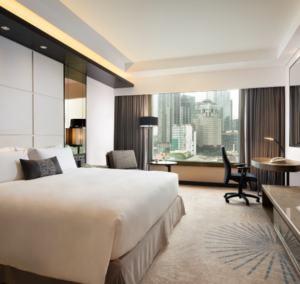 An art-inspired five-star establishment that resides in the heart of Jakarta, ARTOTEL Suites Mangkuluhur Jakarta combines integrated aesthetics in architectural design with prominent contemporary artists, serving top-notch five-star hotel service to all its guests. Located in a prime area close to the Central Business District, Jakarta Convention Center, and prominent shopping malls.
Nested in the prime area of South Jakarta, Goodrich Suites, ARTOTEL Portfolio parades a mixture of elegance and luxury facade of 9 stories building. Using only the finest materials for its furnishing, from carpet, tiles, to wallpaper by Goodrich Indonesia, interior furnishing company, Goodrich Suites, ARTOTEL Portfolio is committed to making you feel good inside. From its location, either for a business trip or leisure, Goodrich Suites, ARTOTEL Portfolio is a picture-perfect of accommodation.
An iconic destination in South Jakarta. Exclusive rooms with concierge service to cater to your creative lifestyle needs. A one stop hub for social needs, from meeting rooms, restaurant & rooftop bar, swimming pool. Kemang Icon by ARTOTEL caters to your essential needs 24/7.
Sutasoma Hotel is more than a story as a 4-star boutique hotel located in the prestigious Darmawangsa area in South of Jakarta. It is a passion and inspiration. Enter age of timeless ambiance, where Indonesian beauty and charm are infused with modernity. A hotel like no other, Sutasoma Hotel is a compendium of culture that connects you to the soul of Indonesia. Each and every detail is crafted to evoke the feeling of time-honored Indonesian tradition, diversity, and virtues in a contemporary way. Embrace your meaningful stay and embark on the journey to discover your true harmony as Unity in Diversity.
You can book your room as of today on www.artotelgroup.com