Working too long can lead to prolonged stress. To overcome this, we can do several things to refresh ourselves. Traveling can be a drug to release fatigue when we are struggling with work for a week. However, choosing an inn or hotel needs to be considered.
In Medan, we have recommendations for hotels with fairly complete facilities and a comfortable atmosphere. The price is also very pocket-friendly, called Bobotel Gatot Subroto – Medan.
Bobotel Gatot Subroto – Medan is situated in the city's famous main street, Jalan. Gatot Subroto. This area can be a vocal meeting point for business ventures, meetings, and the right place to rest overnight before catching another flight. It is near local attractions, must-visit eateries, and Medan's "it" places.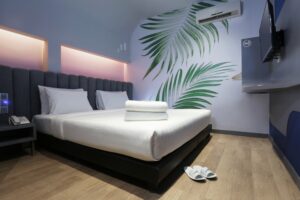 Affordable and comfortable
As a budget traveler or backpacker, choosing cheap accommodation is a must. And from this, you can start saving expenses during your holidays. If Medan is your destination for travel, this choice of a cool and cheap hotel is the right one. In Bobotel Gatot Subroto Medan, we provide
very comfortable facilities even though the price is low. The following are the public facilities provided by Bobotel Gatot Subroto Medan:
24 Hours Reception

Hot Shower

Air Conditioner

Free Wi-Fi

Cable TV

Credit Card Accepted
Having fun on a budget
Bobotel Gatot Subroto Medan has a unique aesthetic color and appearance. Smartly designed 14 and 16 square meters rooms, Bobotel Gatotsubroto Medan provides aesthetically pleasing accommodation for open and closed eyes. BOBOTEL values "Good Sleep" to a whole new level, without forgetting the utmost top-notch mattress for exceptional sleep quality. This is very interesting to update through social media or become a photo spot.
What are you waiting for? 
Book your stay now on www.artotelgroup.com and enjoy your experience.