Chinese New Year or Indonesian People known as ''Imlek'' is an important celebration for people of Chinese descent. This celebration begins on the first day of the first Chinese month of the Chinese calendar and ends with Cap Go Meh.
"Imlek" is actually not an official name, because this word is taken from the Hokkien language and is used by Indonesians. In other countries, this celebration is called Guo Nian or Xin Jia which means skip the moon or new moon.
There are various traditions that are carried out to celebrate Chinese New Year, especially in Indonesia
GATHERING WITH FAMILY
Similar to the celebration of Eid and Christmas, the Chinese New Year is also an important moment for the Chinese community to strengthen kinship ties. Many Chinese people who are approaching Chinese New Year also have a tradition of going home or returning to their hometowns to visit relatives and celebrate Chinese New Year with their families at home.
SPECIAL PRAYERS
In addition to visiting family and closest relatives, another tradition carried out during Chinese New Year is to go to the temples, called Klenteng or Vihara. Just like other people when celebrating their special day, Chinese citizens will also go to pray at the temple.
People will usually visit the temple on the third day to pray and ask for the blessings of the gods so that their lives in the next year will be better than the previous year. However, due to the pandemic situation, it is always a good idea to prioritize health and safety. Always follow the health protocol if you want to worship at the temple.
ANGPAO
This tradition that is never absent in any Chinese New Year celebration is indeed the most awaited moment during the Chinese New Year celebration. The tradition of giving out red packets is a tradition in which Chinese people who are already married provide sustenance to their children and parents, In Indonesia we called "Angpao"
It's also possible to give red packets from the boss to his subordinates as a tradition for Chinese citizens to welcome Chinese New Year celebrations
BARONGSAI
The Lion Dance or "Barongsai" performance is one of the most popular Chinese New Year traditions in Indonesia. Towards the Lunar New Year, there are usually many lion dance performances that can be found in public places such as malls. Performances using this unique costume are performed by two or more people, who will fill the head and the back of the lion's body and perform acrobatics or dances.
FIREWORKS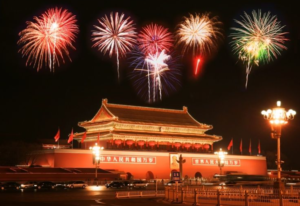 Identical to the big celebration, namely the new year, firecrackers and fireworks are certainly no stranger to the people of Indonesia. In addition to adding to the excitement of this once-a-year celebration, burning firecrackers and fireworks right on Chinese New Year has become a tradition to ward off evil spirits and bad luck in the previous year with the hope that the coming year will be happier and better.
Another thing that we can do to celebrate Chinese New Year is to have a hotel staycation. Let's have an enjoyable getaway in celebrating Chinese New Year with your family and friends in ARTOTEL Group.
Room start from IDR 399.000
Booking period: Immediately – 31 January 2022
Stay period: 31 January – 1 February 2022