The end of January 2022 will mark a huge collaboration between ARTOTEL Group with Singapore Tourism Board (STB) Indonesia by launching #SingapoReimagineAtARTOTEL where guests can experience Singapore with just having a staycation in ARTOTEL Thamrin Jakarta.
This collaboration will be featuring 5 Indonesian talented artists where the five rooms of ARTOTEL Thamrin Jakarta will be having a special mural design by each one of them. Let's get to know them more!
One of the successful Indonesian artists, Melissa Sunjaya. was born in Jakarta in 1974 graduated from Visual Communication Design from the Art Center College of Design, Pasadena, California, USA. She has a passion for reading, writing, drawing, and traveling. The inspiration for most designs is taken from her travels. She is constantly fascinated by details in her surroundings such as the old cast iron ventilation grilles, quirky shapes of botanical specimens, faded colors of vintage stamps, or simply fine handwritten scripts on old postcards. She uses traditional and contemporary elements from varying cultures in her work.
Besides that, Melissa is an entrepreneur. She founded Tulisan in 2010 with the business idea started from her thought, she wanted to convey a message about life and the environment to the community through the products she made. With the background of a visual essayist, Melissa creates works that are translated into various items that are used daily, from bags, aprons, and pillow covers.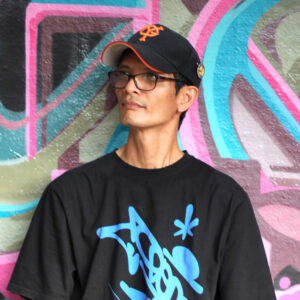 TuTu is a graffiti artist from Jakarta who has wandered in the local and international street art and graffiti scene. Starting to work on the street in early 2000, he is one of the pioneers of graffiti activists in Indonesia. TuTu's work has a  style with detailed colors and elements. The style that he carries today is the fruit of his experimentation and consistency in his work. He translated the style in the form of letters and characters.
TuTu is also a graffiti artist who is very careful and clever in processing his visual works. His works are inspired by the daily events of the big city in Jakarta, especially the diverse social life. Known for his geometric and sharp shapes, his work explores the dynamic future of graffiti.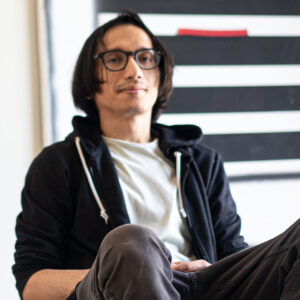 IRSKIY is a painter who chooses the collage painting style as a way of expressing his work in bright and bold colors. This man, who graduated from the University of Michigan in visual communication, prioritizes his work by using abstract geometric patterns. The use of spray techniques and other materials, especially fabric, makes his work look more assertive and stand out like a three-dimensional effect. Kris is also inspired by some 80s architecture and colors
Throughout his career, Kris has collaborated with international artists to interact through painting styles, such as William LaChance and Jonni Cheatwood from the United States. This activity is increasingly being developed and has paved the way for publishing his work to the public online so that other artists, both national and international, can collaborate with him.
Tuyuloveme is one of the influential artists who amazed the world with his work. Tuyuloveme's journey in mural art began in 2006, starting his art practice on the streets of cities in Indonesia. Now his work can be found on the walls and street corners of big cities in Asia, even in other parts of the world, namely Europe, Australia and America. Having the characteristic of using many colors in each of his works, Tuyuloveme's organized and expressive visual style gives the impression of a festival and is able to capture the attention of every eye that sees it. Tuyuloveme's unique mural comes from his personal experience for more than 10 years by meeting and sharing experiences with the people he meets and inspires every journey he goes through.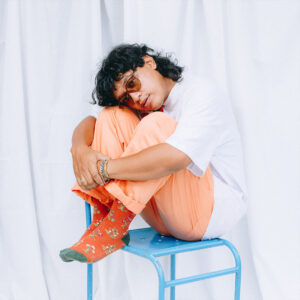 Sicovecas is a graffiti artist from Yogyakarta, started his painting in 2005, found his identity as 'As I See' (SIC) in 2006. His works, which are characterized by water, jugs, and wild plants, represent his life experiences in Jogja. The city is colorful, relaxed, and full of overlap but still harmonious. SIC's signature abstract pattern is full of its urban movement and energy.
Although often a subtle feature in his work, water is central because it represents a stream of dissatisfaction and a desire to continue to explore the most recent and authentic versions of himself. In his present form, the hand stretches across space to reflect the need for touch, to touch and feel the sensation of what is being created.
[reservation detail] artotelgroup.com/singaporeimagineatartotel